Blast to the past....
Did you know I was a judge before??? Don't believe???
oops.... too back to the past...let me forward it just a lil more...
That's better....Where was I?? Oh yeah,
Once upon a year ago, in a town called Sri Damansara, there was a group of teenagers who were in a organisation. This organisation they were in was the worlds largest organisation. It is widely recognise by the world. The group of teenagers were known as Passion Fires of PBC. They had a purpose, a dream, a vision....
One day, the leader had decided to come out with a
heavenly plan to bring the citizens of Sri Damansara into the organisation.
"My fellow brothers and sisters, thy help is greatly appreciated. At this time, we will prepare a rally!! one that will bring people into our organisation!! But remember brothers and sisters! We do this is God's name!" said the leader.
Thus the preparation for the rally was on the way. Everyone worked really hard as a team to get things done. Everything was perfect, but was it??
One day, two of the brothers had a fight and the plan was temporarily disrupted. The leader had to call in reinforcements. The leader took the two brothers along with two of the co-leaders to help sort out the problem. Finally the problem was solved and the preparations was again on the way.
However, problem was entirely solved. The leader of the group was down with a terrible disease and was thus unable to be in action during the night, but the quick thinking of the group has saved the whole situation. A replacement for the leader is found and the leaders role for that night was given to another brother.
The night of the rally has arrived. The crowd arrived earlier as expected, the timing was perfect... and the rally started...
The bestest best friend Youth rally has BEGUN!!!!
It was a night to be... It was THE night for the LORD....But....
Were the crowd ready to respond??
Were they prepared??
The group will never know.....
Only HE knows.....
The co-leader of the group then had flashbacks about the rehearsals and practices...before the great rally....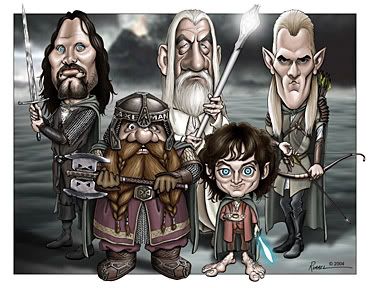 wait a minute....what is LotR doing here??? shoo shoo
At the end of the rally, the group was exausted. They gave all they had to make the rally succesful...
Wait..... was it successful?? hmm...
That is the mystery will we'll never find out....
Hehe, I really had nothing to write.. So thought I bring up some of the old events we had last year... there are pictures..but I am kinda fed up uploading them...56k modem...can die of waiting....The story written above, is abit lame.. so bear with me yah???