The sky had to showing its blessing upon us.
Today was a
pretty shitty
wonderful day indeed, it was the day for
Ying and Yang Production
our film studies group to shoot our KLCC scene. Our beloved actress Sharon was scheduled to join us during the shooting, actually she HAD to come, without the actress the whole outing today will be a total waste of my precious time. So I picked Sharon up at around 11:30a.m. and off we went for the Kelana Jaya LRT station. I had to park my beloved car there. I ingat the parking fees is machine operated and hoping it wouldn't cost me a bomb. When I reached the LRT station, I went...
"Oh my gawd!! what the hell? RM2.00 to park my VIP car in your piece of trash good for nothing carpark??? I rather use that RM2.00 to buy drinks la!!"
But since I had no choice and I ingat we were really in a hurry, I just park and then there we were,
walking up the station hand in hand, going klcc for our date
heading for KLCC to meet up with the group members. By the time we reached KLCC it was close to 1p.m. Waited for the rest of
datuk,nenek,kings and queens
the members to show up. But surprisingly, our researcher was earlier than me.
"I became the datuk pulak"


While waiting, i manage to see a bunch of clowns...erm..clowning around. I figure thats what they do right? But one thing that made me look at them is their ability to put a smile on peoples face. That got me thinking, if I became a clown, wouldn't I be able to make everyone smile and laugh? Besides laughter is indeed the best medicine.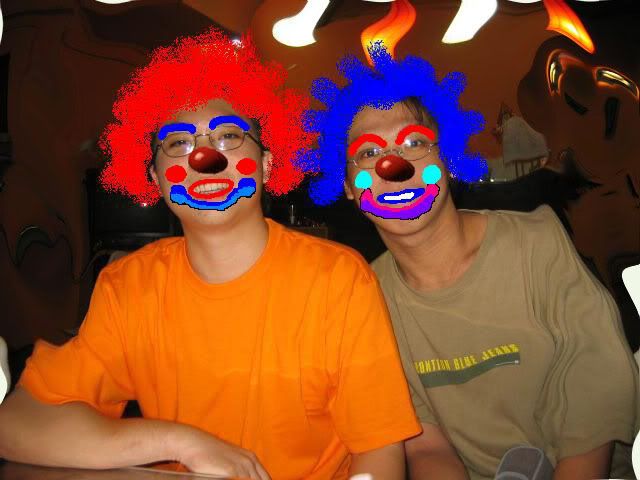 I wonder, this is how I would look like when I am a clown...
After that, everyone came, had lunch and started scouting for location. Wait a sec, wasn't the researcher suppose to scout for the location??? Why kena scout again? Oh ya, because no one narrowed the location. They just said, KLCC park. Hello? KLCC park is damn big ok?? But well seeing that my role in the group is "not important...yet"
*quoted from film editor-Captain Charisma*

,
I shall not say much, after you all only start saying I only know how to talk but dunno how to do.
Then the best thing happened while scouting for location, the skies had decided to shower us with blessings beyond our wildest dreams. So there we were stuck in a gazebo,pondok, shack whatever you wanna call it with a bunch of nutcases and a few merchants couples. The wonderful thing is it took us 1 hour plus to decide not to shoot. So basically, my sweet precious time use for sleeping has been wasted on the most wonderful outing ever,
a stroll in the park with my date
getting my ass wet. I'm definitely wearing slipper on the next outing la.
So then we decided to shoot the actress on friday, since we can't shoot her today.
Darn, assasination failed

.
We shall succeed !!!
By the time I reach my house, slept like a dead pig. Today's outing though not succesful, but I did enjoy myself, seeing that I hardly come down KL and explore around. I manage to see Petronas Twin Towers upclose....Imagine that, I budak KL but never been to Petronas before....the saddest among them all man...
Had a wonderful conversation with Sharon today, I guess I should have more conversation with her. I can still remember there was that period of time when I couldn't talk to her due to some reasons. Those were the days....
I'm off to bed, my brains are shrinking to the size of a peanut now, gotta get my sleep.. till then, happy wasting your time surfing the net!!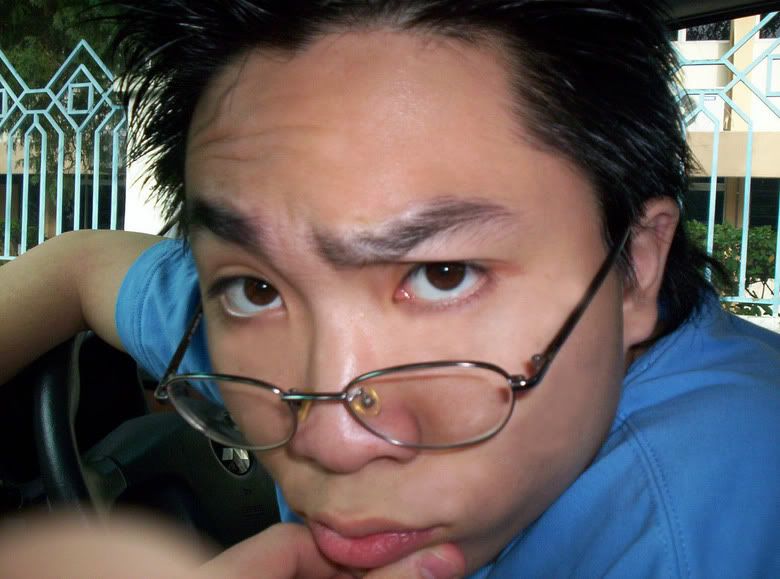 Say what? What you looking at? I know I'm good looking..
larger nuts than yours....