I've got no readers, Close the blog la right?
What is the whole purpose of blogging?
Some say that you blog because it's a trend now.


I partially agree with you people with that, in a way its a trend.
Some say that you blog because you want to entertain.


that one I find it abit susah la, because it ain't easy to do that. Actually,erm, can wan, but your coconut must be as large as Kenny Sia
*www.kennysia.com*
.His sole purpose of blogging is to entertain. Erm maybe not SOLE la, but technically he blogs to entertain.

Some say that you blog to trash out every single thing you hate or in short, let out your frustration.

This one I have to entirely agree with you. My main purpose of creating this blog is to let out my anger, let out my pain, let out my frustration in here. For example, SCREW the GINVERA competition.


But then how you blog and why you blog is entirely up to the individual. In my opinion though, I find blogging your frustrations on your blog is somewhat boring? Why you ask? look at me.. I've no readers for goodness sake. Don't tell me I've to shut down the blog again? Or should I just continue trashing the blog?
Ok, so it seems that the new batch of NS trainees has been selected and now the government finally thought of bringing weapons training or in this case M-16s in NS. I was like what the hell? you talk shit with me now ah? I last time don't want to go NS because no weapons training, just merely lessons on Malaysia which I think 5 years of that sort of education in form of Sejarah is more than enough a torture for me. Then now they want bring back, I protest liao. I don't get to play with the guns, you don't get to play either!! MWAHAHA!!
"NS trainees may one day undergo weapons training"

Thursday 16 June 2005, The Star Online.



wah lau, when I read that, I begin to wish I would go join NS.. haha...
But then pointless liao, or more or less too late. Cannot join already, or can I?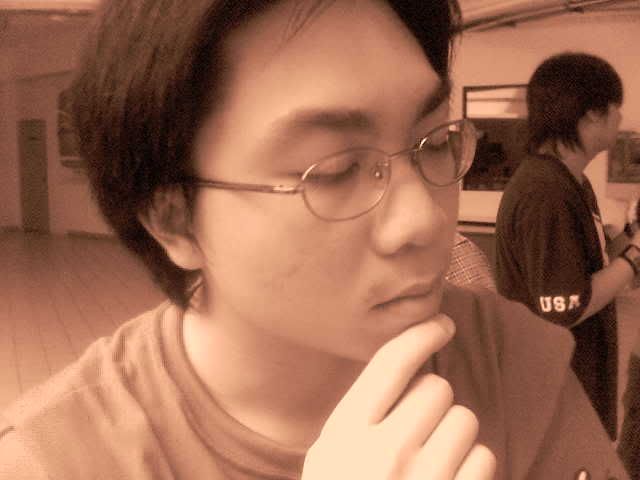 *Deep in Thought*



Teens thrilled, but parents are horrified
BY JONATHAN CHEW
PETALING JAYA: Cool, say teenagers at the prospect of receiving firearms lessons at future national service (NS) training stints.
No way, say their aghast parents.
Those were the responses received by The Star when potential NS trainees and their parents were asked about the proposal to let youngsters learn how to use M16 assault rifles and other weapons as part of their training.
Deputy Defence Minister Datuk Zainal Abidin Zin said on Wednesday that the proposal was aimed at improving the youngsters' self-discipline and confidence.
Joshua Wong, 17, of SM Bukit Bandaraya, Kuala Lumpur, said it would be "pretty cool" to learn how to use a firearm in a safe and controlled environment.
"How often does it happen that a teenager can hold a gun without actually killing someone?" he asked.
Onn May-Threen, of SM Sri Aman here, said most of her friends were excited.
"It's something we have never had the chance to experience before. People might think it is violent, but for the sake of experience, it's a cool idea."
However, most parents were up in arms over the thought of their children shooting at firing ranges across the country.
Joshua's father, gynaecologist Dr Wong Sum Keong, 44, who was in the army cadets for seven years during his secondary school days, said he could not understand the purpose of weapons training for teenagers over a short three-month period.
"Weapons training should be done if the NS programme lasts for about six months to a year. But this (three months) is too short a time.
"Teenagers may get some idea about the power of a gun, but not learn the responsibility needed in using it," he said.
Housewife Suzie Emang, 42, said NS trainees came from diverse backgrounds and had different levels of responsibility and a firearm in their hands would pose a great risk.
"Trainers are not aware of their (trainees) behavioural patterns. All it needs is someone to be careless, and there could be serious injuries," she said, adding that she was not in favour of letting her son handle such weapons.
Malaysian Youth Council secretary-general Norizan Sharif urged the Government to explain their rationale to help allay fears of parents.
"You don't want to train skills that are not necessary, unless NS will be used as some kind of army reserve," he said.
Asian Youth Ambassadors executive director Sandra Chin said it was pointless to teach teenagers how to use an M16 when the country did not permit anyone to carry a firearm without a licence.
Muslim Youth Movement of Malaysia secretary-general Azizuddin Ahmad said the move would contradict the Government's initial explanation that NS would not be a form of military training.
Friday 17 June 2005, The Star Online

HAHA, of course the teens are thrilled, they get to play CS real life. (for those who don't play PC games, CS is Counter Strike..It's a..a..erm..a game...) But then the parents are horrified. They must be thinking that the government is trying to train the future Rambos,Mambos and Jumbos, and don't forget Dumbos. But in the end, this whole matter is entirely up to the big handsome machos we see as leaders who will be handling it.

Oh, according to a friend of mine, before the start of a show or something like that, the national anthem has to be played, and it also seems that in public, if you were to be caught disrespecting the national anthem, be it not standing or not singing , or plainly digging your nose or scratching your ass during the national anthem, the authorities have the power to sue your nose and ass for being itchy! So people BEWARE!! Don't disrespect the national anthem.

I do like the song though, but it needs a bit of boost in its music. But overall it's Malaysia's Anthem!! we must sing it with The highest RESPECT!!

"Negaraku, tanah tumpahnya darahku
Rakyat hidup, bersatu dan padu
Rahmat bahagia, Tuhan Kurniakan
Raja kita, Selamat bertakhta
Rahmat bahagia, Tuhan Kurniakan
Raja kita, Selamat bertakhta."

Notice something about the arrangement? the first letters.. N and then Rs all the way.
Must have mean NationalitY!! RESPECT RESPECT RESPECT RESPECT.....
hahahah..

Anyhow, Malaysia Truly Asia!!!!!